Some original items, and some leftovers as we sweep around the rest of the state, starting north and moving south:

TOLEDO CLASSIC ROCK MORNING CHANGE:
OMW hears that Cumulus classic rock WXKR/94.5 morning team "JR & Kelso" are no longer with the station, as John Richards and Marc Kelso were let go today.
Toledo radio veteran Mark Benson slides into the WXKR morning slot starting Monday. He moves up the 94.5 schedule from 7 PM-12 AM (and a simultaneous stint on sister sports talk WLQR/1470), but he's also done morning drive - at WIOT/104.7 - and programmed rocker WRQK/106.9 in Canton.
The WXKR website does not have an announcement of the show, but "JR & Kelso" are gone, and there's already
a not-yet-completed entry for "Mark Benson Mornings"
on the station's "On-Air Staff" page...not completed so much that a picture is not yet up, but a placeholder is!
COLUMBUS TV NEWS ICON SIGNING OFF:
About the only two Columbus TV news anchors we can remember up here in our Northeast Ohio perch are Doug Adair and Mona Scott, the married couple who left Cleveland NBC affiliate WKYC/3 for the capital city's NBC outlet, WCMH/4.
Then, there's 27 year Columbus market veteran Angela Pace. At least, there will be - on the anchor desk of CBS affiliate WBNS/10 "10TV" - for the rest of the month.

Columbus Dispatch TV/radio critic Tom Feran reports that
Pace moves off camera on August 31st
, and will take over as the station's newly minted director of community affairs. Oddly enough, Pace waited out a non-compete when she moved from Channel 4 to Channel 10 in 1992 - as a "community relations specialist".
She replaces nearly 50 year station public service director Chuck White, who's retiring. And though community service activities are far from new to Pace, most will be watching how she's replaced on the air. Feran says "10TV" will not only have to replace her at 6 PM, they'll also have to decide if they're keeping a three anchor format at 11...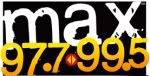 BUCKEYES TO THE MAX:
This ran earlier on the various trade sites, but just to catch up - Ohio State Buckeyes football and basketball move this year in the Cincinnati market to First Broadcasting duo WOXY/97.7 Oxford-Mason-Wherever It Is Right Now - WAOL/99.5 Ripley OH, better known to most non-call letter freaks as the adult hits simulcast "MAX FM".
A
schedule of the Buckeyes' upcoming football games
is on the station's website.
The rimshot duo picks up the Cincinnati market rights that used to be held by Salem talk WBOB/1160 Florence KY, which Salem sold to Christian Broadcasting Systems. It's now LMAed as oldies WDJO...