(UPDATED BELOW WITH NEW CHANNEL LINEUP AND LINKS)
Someone else will have to help us out with the Comcast version of this, but here's what's happened in the first half hour of Time Warner Cable's ownership of the former Adelphia system in Cleveland...
As expected, NFL Network has been pulled from the systems formerly served by Adelphia, on both digital cable (178) and in HD (778). And ESPNU has also been removed at digital cable channel 125. OMW also hears that similar changes were made early this morning on the now-former Comcast systems in the Cleveland area.
Time Warner has put up a new graphic in place of the ESPNU feed, and we'll assume that they'll eventually do so with the NFL Network channels as well. It simply tells viewers that: "Time Warner Cable does not currently have an agreement to provide the programming previously carried on this channel."
Other things we've noticed so far include the addition of WUAB-DT, the HDTV feed of Cleveland UPN-to-become-My Network TV outlet WUAB/43. However, it has not yet shown up on our cable box. It IS available to those with a QAM tuner on their digital TV set or computer TV tuner card. It is a different feed than the digital simulcast of the analog WUAB feed.
UPDATE 1:11 AM 8/1/06:
TWC has put up new channel lineups for the merged systems, with PDF versions of the channel cards, at
this address
.
A quick look at the Cleveland/suburbs card shows not only the removal of NFL Network and ESPNU, but the addition of:
Digital Basic
------------
138 C-SPAN3
Digital PLUS
-------------
168 NBA TV
HDTV
------
706 WUAB HD
715 WNEO HD
720 The Tube (WUAB-DT's music subchannel)
779 TNT HD
Despite some earlier speculation, it appears ESPN2HD will be staying. And it may take some time for some of these channels to get to cable boxes...so far, the new 700-series channels are not on our HD cable box.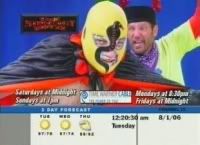 Adelphia's local programming channel, 15, has continued as it was before midnight with one difference...the substitution of Time Warner Cable logos where the Adelphia logos used to be, and of Time Warner Cable's name where Adelphia's name used to be.
The programming schedule listed on channel 15 remains as it was before, at least for Tuesday...we've put in a request to TWC spokesman Bill Jasso for more information on local programming plans for the newly-combined system.
One thing that hasn't appeared to have been touched this early - the "Adelphia OnDemand" channel (on our system, cable channel 1).
Not only does it still carry the Adelphia logo, but it also still - at least at this hour - is offering up the NFL Network's on-demand shows, the ones previously offered on that channel. We don't know if the cable channel has a separate deal with the OnDemand folks or not.
The cable company plans a big launch press conference for the newly-merged system at Jacobs Field later today...