Just some random stuff, mostly followups:
COMCAST NFL:
OMW hears that after a few days of only a notification message, Time Warner Cable has finally returned the NFL Network to subscribers on the former Comcast system locally.
It's back on its usual channels as of Tuesday - 180 and 275. And an OMW reader reports that the notification that TWC plans to pull the NFL Network without a new agreement has been moved to a rather odd place...cable channel 116. Not digital cable channel 116, which carries the History Channel...but analog cable channel 116.
Various published reports say that TWC has backed down from any court challenge to the recent FCC decision that forced it to return the NFL Network to former Adelphia and Comcast subscribers, and the cable operator continues to pursue a final resolution otherwise.
From OMW's corner, it appears TWC has nearly three months to come to an agreement with the NFL Network...if it is not successful in its negotiations before September 3rd. Most viewers won't really care about the channel again until they're not able to see actual games on it...which start on Thanksgiving Night...
STILL MORE DUNCAN FALLOUT:
The fallout over the dismissal of WERE/1300 morning host Ronnie Duncan as the NBA Cleveland Cavaliers public address announcer is still reverberating in the sports media world in Northeast Ohio
Duncan himself
weighed in with Cavs beat writer Bob Finnan
in the Lorain Morning Journal/Lake County News-Herald:
"'They made me a robot,'' Duncan said. ''Dan (Gilbert) would interject things during the games, like 'Cleveland basketball' (sung to the tune of 'Detroit basketball'). They wanted Mason. Maybe Dan should have bought the Detroit Pistons.''
"Mason" is now-former Pistons PA announcer John Mason, who that team insists is not headed to Cleveland.
But the "Detroit Connection" is hard to shake for Cavs owner Dan Gilbert in the Cleveland sports media, as suggested by Cleveland Plain Dealer sports columnist Bill Livingston
in his column today
.
Like Finnan, Livingston does point out some of Duncan's on-mic goofs at the "Q", including calling Hall of Famer Oscar Robertson "Oscar Robinson".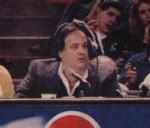 Most of this is out of our purview, so we'll only bring up that some people are calling for former Cavs PA announcer Howie Chizek to return to the microphone. But as we said elsewhere - that isn't happening on either side of this equation.
The WNIR/100.1 midday talk host declined to commute to downtown Cleveland when the team moved from the Richfield Coliseum to then-Gund Arena.
Not only that, Howie has long complained on the air about the current state of professional sports, and its emphasis on overly produced entertainment.
On the other side, it appears Dan Gilbert is actually looking for more of the same - see the above quote - and for that matter, for even more than he got out of Duncan.
Howie is very popular among Cavaliers fans, and is usually considered the gold standard of arena announcing around these parts. But even if he got past his own concerns, what he does is not what the current ownership wants...and never the trains shall meet...
NOTE:
Our apologies to News-Herald/Morning Journal Cavs beat writer Bob Finnan for the misidentification earlier. We guess we had to get all the Browns stuff we'd been writing out of our heads!