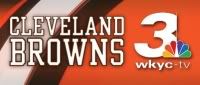 It's official: WKYC/3
has nabbed the 2006 pre-season game rights to Cleveland Browns football
, and will air other Browns-themed local programming. The pact is for one year.
And the deal had to happen quickly. The local NBC affiliate will be carrying the first pre-season game next Thursday, August 10th against the Philadelphia Eagles.
WKYC will also air pre-game and post-game shows for each of the pre-season games it carries this year, as well as a regular Sunday morning pre-game show during the regular season.
"The Point After" will air Monday nights at 7 during the season, and starting September 10th, a local Browns show will air on WKYC after NBC's Sunday Night Football.
And in their announcement, the Browns
also confirmed the pre-season broadcast team
for the 2006 games:
* Sam Rosen returns to the play-by-play role this year, after taking over that position for the second pre-season game last year.
* As he announced himself, popular former Browns quarterback Bernie Kosar will be a regular analyst this pre-season.
* And another member of the 2005 Browns pre-season TV team, former receiver Brian Brennan, will round out the trio in the 2006 TV booth...