It's one of those periods of time here on OMW - we've been knee deep in sports media news due to all the "breaking news" from that world the past week or so. We've had so much "breaking news" that our "news breaker" is almost "broken"!
Let's look "in depth" to some of the most recent big stories we've brought you here: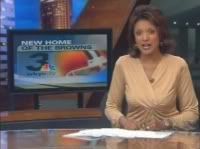 BROWNS/WKYC DEAL:
In the end, it was familiarity that won the day for Gannett NBC affiliate WKYC/3, which gets the Browns pre-season and in-season-show over-air deal for the 2006 season.
You could hear it in the voice of Bill Bonsiewicz, the team's VP of communications, when Channel 3 sports reporter Andy Baskin interviewed him on the station's 6 PM newscast.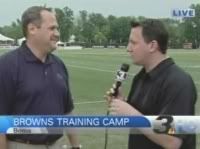 "It's great to renew our relationship with 'KYC", Bonsiewicz said with a wide smile and casual reference to the team's new/returned TV partner.
In his earlier statement, the team official said: "The Browns have worked with WKYC before and know the level of quality they bring to all their local programming."
He all but proclaimed that it was "good to be home", and you can't help but wonder if that "level of quality" line in his statement is an expression of relief...after the 19 Action News Circus the team had to endure up until now.
For one, we're pretty confident no female WKYC staffers will show up at Berea with enough cleavage to fill a season of "Three's Company"...
CAVS AND 43:
And that brings us to another comment, regarding Cavaliers owner Dan Gilbert and his negotiations to make FOX Sports Net Ohio the exclusive home of the Cleveland Cavaliers - a pact which would start in the 2008-2009 season. Until then, WOIO Raycom Media sister station WUAB/43 shares the rights.
And apparently, Gilbert and the Cavs are just as displeased with Raycom/WOIO/WUAB in how a certain female "19 Action News" staffer was used in WUAB's coverage of Cavs games last season. See our other comment immediately above this one for more enlightenment.
As such, it may be at least one thing inside Gilbert's head as he looks to making FSN Ohio the sole TV home of his NBA team...
GILBERT AND REGHI:
The Cavs owner had an interesting interview this afternoon with WTAM/1100 afternoon driver Mike Trivisonno and station sports director Mike Snyder.
Mr. Gilbert - while calling now-former Cavaliers TV voice Michael Reghi "one of the best announcers in the NBA" - continued singing the praises of incoming TV play-by-play voice Fred McLeod.
He cited McLeod's "overall technology experience and video production experience", and said that would upgrade the Cavs TV broadcasts. (What, he's gonna run the electronic graphics while calling the game?) He says that'll improve the "overall quality" of the telecasts.
Gilbert called letting Reghi go "a difficult, tough decision", and compared the move to McLeod as being similar to Cavs general manager Danny Ferry obtaining a player upgrade for the team.
Oh, and about that whole "Pistons East" (or "South", or "South East") thing...Gilbert seemed puzzled by fans and media types who got that impression, claiming that his team has not "copied a single thing" from the Detroit NBA franchise. He claimed that it was actually the other way around in terms of game presentation and such.
But it's hard to break that belief among people - when you replace a popular local TV voice with a guy who just spent the past 20 years in Detroit, who called the Pistons' TV games, and who you worked under as an intern many years ago out of Michigan State.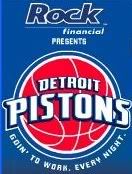 Oh, Gilbert's not only a Detroit area resident who has season tickets to the Pistons... his Rock Financial is also the presenting sponsor of that team. It's right there on the logo.
But perhaps the most cited incident is Gilbert's well-publicized interest in former Pistons coach Larry Brown, who ended up going to the New York Knicks.
So, there are a lot of ties there that it's hard for him to live down. In fact, when he first came to Cleveland to buy the Cavaliers, many pointed to his ties to the Pistons as a positive thing - since the franchise up northwest of here has a much longer winning tradition.
We'll leave the "Detroit East" stuff to the sports writers and blogs. But for now, this closes out this part of the Reghi-McLeod story for us...