As we're scrambling to get out the door before 2:

WAPS HONORS:
The Akron Beacon Journal's Jim Carney looks at
Akron Public Schools AAA WAPS/91.3 "The Summit" being a finalist for a national award
- Radio & Records' Triple-A Non-Commercial Station of the Year.
Though well-regarded WXPN/Philadelphia picked up the honor, WAPS was competing with top-20 market stations.
The Carney article also answers a question we had...the station recently went on its own as far as funding from the Akron school system. Underwriting, listener donations and money from the Corporation for Public Broadcasting are now fully paying the freight at "91.3 The Summit".
And there's one thing we've neglected to pass on. Recently, WAPS upgraded its computerized music storage system. For the past few weeks, the station's music has been playing out of its server in uncompressed form. If you've noticed a clearer sound recently, that's why...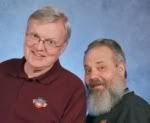 STAPLES LEAVES:
And back to Toledo for a second, where Cumulus rock oldies WRQN/93.5 morning co-host Dennis Staples ("Kelly and Staples") is retiring.
OMW hears that the ailing Staples (right, next to co-host Bob Kelly) had been hoping to stay on the air via a home studio, but is retiring instead.
The WRQN team has been together some 20 years, and has also been heard on WTOD and WCWA...