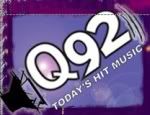 Canton market top 40 WZKL/92.5 "Q92" is apparently saying "uncle" after strong reaction to a bit by evening personality "Igor".
The Canton Repository reports that
the Alliance-based station has officially apologized for a regular bit called "Name that Tune with Mongoloid Mike"
. The Repository's Melissa Griffy Seeton reports that the contest "invited people to sing a song as if they have mental retardation and listeners tried to guess the song to win a prize." The Akron Beacon Journal's Mary Kay Quinn
also has a story
in today's paper.
According to the Repository, Igor's first response was - among other things - to blame people outside the Q92 listening area for stirring up the pot.
But it quickly became clear that much of the negative response was from hundreds of Stark County residents, as members of the local Mental Retardation and Developmental Disabilities board mobilized to flood the station with complaints over the past few days.
As a result, MRDD officials got an official apology call from Q92 general manager Don Peterson III, a statement of apology by programmer John Stewart, and a pledge from Igor to kill the segment.
In an on-air statement Wednesday, Igor noted that it wasn't his "intention to hurt anybody" with the bit:
"I try to do an entertaining show every night and didn't realize that maybe some people would take offense to this. ... It's been pointed out to me that this isn't a proper forum for such behavior, so, and actually I do know where you're coming from. I have a cousin who has Down syndrome, so I can relate to those who've made complaints about it."
And the station has
posted its apology on the Q92 website
(warning, CAPS LOCK ahead):
TODAY'S HIT MUSIC Q92 WOULD LIKE TO FORMALLY APOLOGIZE FOR ANY HARM THE ON-AIR STAFF HAS CAUSED BY AIRING A SHORT BIT CALLED "MONGALOID MIKE". IT WAS NOT OUR INTENT TO OFFEND ANYONE, BUT TO MERELY ENTERTAIN AS WE TRY TO DO 24 HOURS A DAY 7 DAYS A WEEK. IT HAS BEEN POINTED OUT TO US THAT THIS IS NOT THE PROPER FORUM FOR SUCH BEHAIVOR AND WE SINCERELY APOLOGIZE. THIS BIT WILL NO LONGER BE ON Q92, AND WE'LL TAKE THE FEELINGS OF OTHER INTO CONSIDERATION, BEFORE AIRING OUR COMEDY IN THE FUTURE.
Your Primary Editorial Voice(tm) is fortunate, in that we have no family members who are so affected.
But one of our best friends in this world is the adoptive mother of a developmentally disabled 16 year-old boy. We've spent a lot of time with her and with her son, and over that time, we also became somewhat sensitive to stuff like this. Maybe we're "too sensitive"...we don't know. We're sure that some will consider this incident "political correctness run amok". Knowing this woman and her son, it's hard for us to laugh about this.
We don't really know Igor. We suspect he's a reader of OMW, and everything we've heard about him tells us he seems to be a "good guy". We hope he takes this all to heart...